Update Your Outdoor Space With These Top 9 Lawn Curbing Ideas
Keep your lawn looking fantastic with these top landscaping curbing ideas. Our experts have shared their tips for upgrading your outdoor spaces using custom concrete landscape curbing.  Curbing keeps your lawn looking sharp, tidy, and interesting. With a variety of colors and stamps to choose from, your landscape can be customized to fully compliment your style.
1. Add Island Interest
Update your already gorgeous lawn with a garden island.  This beautiful update will keep your house looking interesting for years to come. Keep it simple by using  low key plants or uniform colors. Make it pop by using varying textures, colors, and heights of plants. Be sure to add curbing with a stamp style and color to really make your plants POP!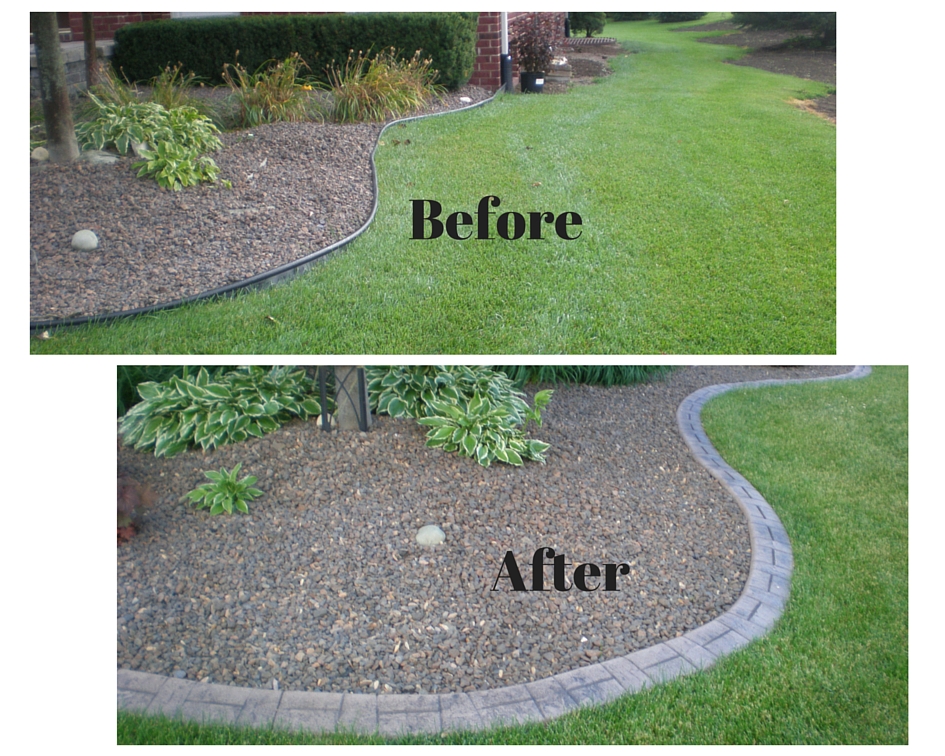 2. Dress Up Your Driveway
Add details like plants of varying heights with custom stamped curbing to keep everything looking sharp and contained for your home or your business.
3. Create Interesting walkways
Beautiful walkways can be created with the help of curbing. Rocks, wood chips, or even landscape (tumbled) glass can be used between two lines of curbing to create stunning paths throughout your landscape.  Creating paths this way makes any yard a more inviting place.
4. Plant Edible Gardens
Make your edible garden stand out! Herbs and vegetables are a healthful, affordable, and stunning addition to any landscape.  Surround your edible garden with decorative edging by 545 Lawn Care to create a truly unique look.
5. Decorate
With landscape curbing, you can customize a spot to showcase what you love!  Support your favorite team/ politician/ student or decorate for your favorite holidays. Make a statement with curbing in your choice of color and stamp style!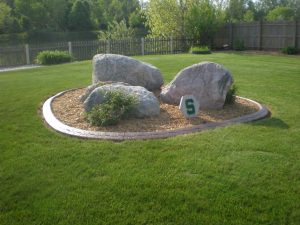 6. Enhance Porches/Decks
Porches or decks can be boring. Add plants or bushes and decorative edging to create interest and clean lines.
7. Separate Play Areas
Let your kids have fun while keeping your curb appeal!  Do you have a playset in the backyard? Separating your lawn from the play area adds sophistication to your home's overall appearance. With 545 Lawn Care, you are able to customize and design your edging to create a space that is uniquely yours.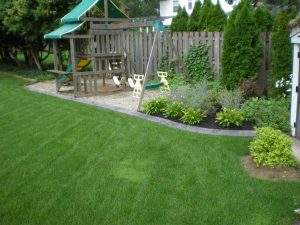 8. Keep it Tidy
Keep those wood chips and/or stones where they belong! Curbing will keep your lawn free from this sort of debris and enhance the appearance of your home or business. 
9. Use What You Have
Do you already have a tree planted? Update your home's look by framing your tree with curbing, stamped and colored to your specifications, to create an updated and manicured look. Are there plants lining your fence? Add decorative curbing to create a uniform and organized look to your landscape.
Concrete curbing and decorative edging is durable and customizable with a finished product that always looks sophisticated and clean. It is a simple addition to your home or business with dramatic results.  We've been doing this for years and have put together a full idea page with photos to help you get inspired. 
Let 545 Lawn make your landscape dreams come true with versatile, durable, and custom lawn curbing!